What's in store for Calgary 2024?
Celebrations officially commence February 27, with the Law Enforcement Torch Run (LETR), VIP Reception, and the Opening Ceremony presented by the Calgary Flames Foundation. The Games wrap up March 2 with a community celebration presented by Safeway at Olympic Plaza in the morning, then the Closing Ceremony that evening, followed by the popular athletes' dance. The days between are packed with the eight sporting competitions and various activities and events.
Leading up to the Games: Our Athlete Ambassador Program, presented by Pembina, officially kicks off July 7, 2023, at the Calgary Stampede Parade. Watch for Athlete Ambassadors, Darby, Siobhan, Damion, and Leonka out and about at various events throughout the year. The School Program presented by RBC, takes place in late fall and will focus on influencing intellectual disability inclusion, while teaching students about unity, diversity, pride, sports, commitment, and teamwork. Watch for further details on both programs.
Get Involved
Whether volunteering your time, donating resources, sponsoring an event, or advocating for change, you become part of a larger social fabric and build relationships with people who share common interests and goals.
Family & Friends
The Family and Friends Program presented by Cenovus Energy celebrates the dedicated people behind every Special Olympics Athlete. Their encouragement, support, and personal sacrifice have culminated in getting their athletes to the position they are in today – competing in the National Games.
Register today and enjoy benefits including discounts on hotels, airfare, and vehicle rentals.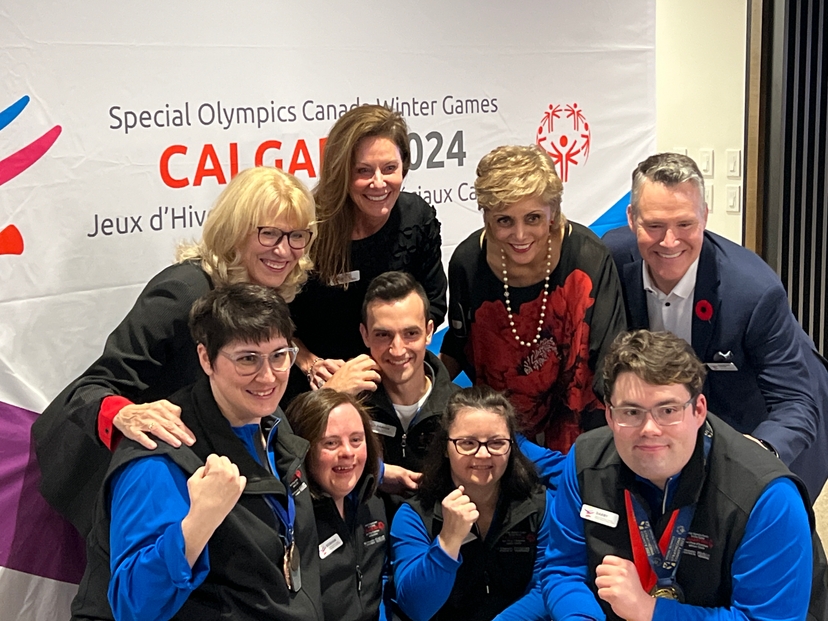 Special Olympics Canada Winter Games Calgary 2024 Launches Games Legacy Program to Support Disability-Inclusive Employment
Organizing Committee Confirms 100 per cent of Games proceeds to go back to community initiatives, 70 per cent of legacy funds to stay in Alberta
Calgary Students Learn about Disability and Inclusion  Through New School Program Presented by RBC
The Special Olympics Canada Winter Games Calgary 2024 School Program presented by RBC officially launched today at an interactive event at Seven Chiefs Sportsplex with area schools. The program aims to impact over 1,000 local students in Grades 4 to 6.
The Lasting Legacy of Calgary 2024: Championing Inclusion in the Workplace
As the world gears up for another mesmerizing spectacle of sporting achievements, the organizing committee is ensuring that the legacy of the event is deeply entrenched in fostering inclusive employment opportunities for those with disabilities. 
About the Games
Showcasing the very best of both the intellectual disability sport community and the city, the Games will bring together athletes from across the nation to compete in 5-Pin Bowling, Alpine Skiing, Cross Country Skiing, Curling, Floor Hockey, Figure Skating, Snowshoeing, and Speed Skating.